Check out this blog from ultra runner Matt Buck from Running Adventures – it is packed with tips for night time running (may come in handy for this year's big event!)
You can't beat the thrill of night running on trails, whether on your own in the countryside, or with a group of fellow runners in a race. Your senses are heightened and everything is a rush. You will notice things at night that you wouldn't have given a second thought to during the day. A crack in the wood or a shadow rushing past you. Then look up, the moon and stars make you feel on top of the world, it's a fantastic experience. It's different to running during the day though, you need to be careful, you need to be more aware of your surroundings. Here, I'll cover 5 top tips to help you make the most of your night running experiences both in the lead up to Equinox24 and during the race itself.
1. Use a good head torch – I take a lot of people running at night and as a result, I see a lot of bad torches. Having the cheapest torch you can find isn't going to do you any favors, running through the woods at night with hardly any light isn't very easy! Buy the brightest torch your budget will stretch to, you won't regret it. Also, try not to point the beam into your friend's faces, they'll be seeing stars for ages!
2. Watch there you are going – Running at night means that obstacles on the trail can spring out of nowhere, with no warning! Make sure you are focused on the ground in front of you and in control of your running, chances are you will need to hurdle a root or log at some point, and if you are not paying attention, you can expect to take a little trip!
3. Take a friend – If you are not confident on your own, then get some friends out for a night time running adventure. You will feel safer and can look out for each other on the trails.
4. Know the area you are running in – Trails look at lot different at night! If you don't fancy getting lost, make sure you pick a route that you are totally familiar with, especially for your first couple of runs.
5. Keep your eyes peeled for wildlife – I run a lot at night and it's during these runs that I see the most amazing things. Try to spend some of your run being quiet and you might stumble across something cool. I've been lucky enough to see Badgers, Owls, Deer, Foxes and Hawks during my recent runs…everything comes out at night in the woods!
Want some night running guidance? I'm hosting a workshop for Equinox24 runners on 9 September in Guildford. Come along and learn everything you need to know for the race.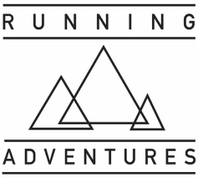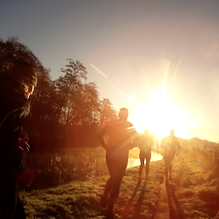 Competitor Profile: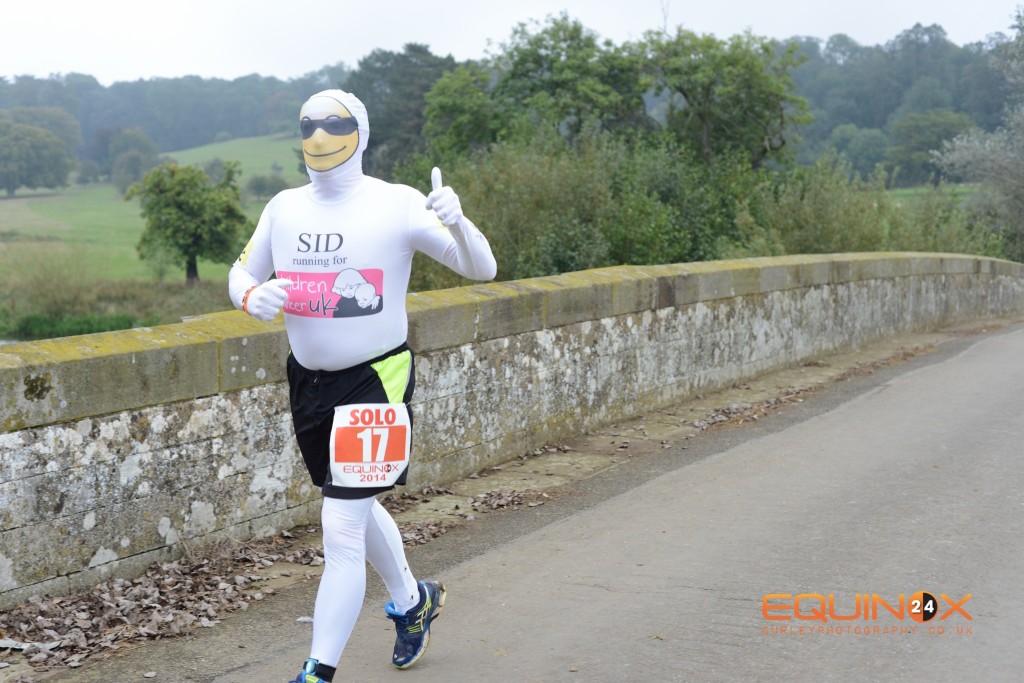 Name: Sid Sidowski
Age: 42
Race category: solo
Number of laps: 10
Time: 23hrs I think ish!
Did you win/place in any categories? First morph 😉
Background Info:
Married with 2 kids in a job I hate. Trying to be a better man raising money for Birminghm Children's Hospital. 5k turned into 10k in a morphsuit, then a half marathon morph, then a marathon and then a morphed marathon. Then went straight to Outlaw 140.6 tri, then morphed it, and then Equinox as my first run over 26.2 and decided to morph it.
Why did you enter equinox24? To push the boundaries further to generate sponsorship
What preparation did you do for the event? Ran, ran and ran. Pushed training to daily running and sometimes 2 or 3 times a day to get used to lots of running.
What would you do differently to prepare next time? More running!
Which parts of the course did you find the most challenging? Grass hill
Which parts of the course did you find most enjoyable? 5k water station and around the field.
What time of day/night was the toughest for you? 12-2am and a bout of hypothermia
What did you eat over the event and when? Flapjacks each lap at the bottom of the long hill, bacon sarnies, marmalade sarnies, mini pork pies, pizza , pasta and water at start/finish.
What rest did you take? 2hr sit down trying to warm up 12-2am
Did you bring any supporters with you? Support team were the Poppyfields relay team and a few running pals dotted in different teams
Did you have a plan for the event? Did it go to plan? Sort of. Just to not have a sleep and keep going.
Event highlight: There were two: Marathon Man UK (Robert Young) guiding me in with his t shirt as a guide rope as dusk fell quicker than I expected and my visibility was cut to zero with the morphsuit. He guided me the last 5k of lap 5. Iron Jedi who was marshalling and generally helping stopped me going out on lap 7 or 8 as I was dithering uncontrollably and likely suffering hypothermia. He gave me his coat and told men to warm up before I went out. I then ran in that coat for 2 laps. Saved my race!
Event low point: Giving up throughout lap 10
Memorable moments: My much better half meeting me at 7km on lap 10 to walk me in. She is my pride, confidence, heart and happiness.
Will you do the Equinox24 again? Yes! Back to defend solo morph title 2015
Top tips for anyone competing: Enjoy and absorb the brilliant people around you; both competitors, supporters and organisers, marshals, photographers.
Social media/website/fundraising details:
Www.justgiving.com/bmxbandit
Www.shortfatbaldsid.blogspot.com
I raise for Birmingham Children's Hospital brain tumour treatment and research as they have treated my niece, Poppy, since she was 14mths old and given a 50/50 chance of surviving her first op. 4 ops, chemo and radiotherapy later, she is now in her first year at secondary school. I'd like to add that the event was truly suberb in every way. Brilliantly organised and run by Johnny and Laura. First class event and entirely inspirational.
Competitor Profile: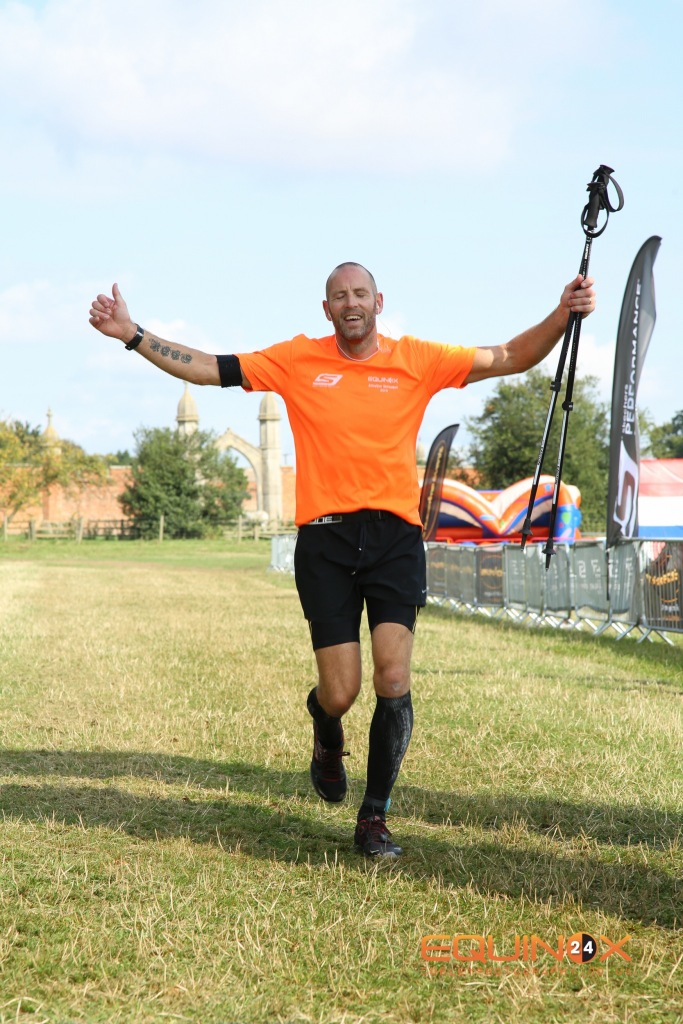 Steve Salter – Male Solo Winner

Age: 40
Race Category: Solo
Number of Laps: 20
Time: 24.13
Occupation: Carpenter 
Lives: Leicester
Interests: Triathlon racing
Steve put in an amazing performance at Equinox24 2014, but running isn't his first sport of choice. He now competes in triathlons as his main hobby but previously he was a full contact and k1 fighter and has gained World, European and British titles – so he is used to winning! He is now retired from fighting and concentrating on passing the skill onto others at his kickboxing academy in Leicester. Steve told us "I have had a great career travelling the world and hope to have the same success in triathlons."
So why the Equinox24?
"Although I had retired from fighting, I still held the burning desire to push myself and compete. Hearing about the Equinox24, it seemed the perfect thing." Steve competed in the first Equinox24 in 2013 where he came 9th in the solo male category with 16 laps and in 2014 he went on to win the Male Solo category with 20 laps.
We asked Steve what he did in preparation for the event:
"My biggest preparation for the event was slowing my running speed down to a pace that I could sustain for a long time. Having done a few triathlons beforehand, I had gotten used to running fast and this may seem crazy but the hardest thing for me to do was slow down! The weeks leading up to the event I would run at least 13 miles a day trying to hit that all important slow pace."
Steve told us that the most enjoyable part of the race was running in the pitch black and seeing the glowing lights and hearing laughing and singing from the marshals at the half way point. "Those marshals were great and really spurred me on."
The most challenging aspect of the event for Steve was the downhill sections. "Having tendinitis at the time I found running down the grass hill the most challenging as it also had a camber to it."
When was the most challenging time of day/night?
I would say the couple of hours before sunrise were the hardest when it became misty and cold.
What did you eat?
I tended to eat little and often choosing jam and peanut butter bagels as my main source of food along with flapjacks.
Did you have a plan for the race?
My only plan for the event was to win, which is the mind-set I go to with any race with and thankfully, I did win, proving if you put your mind to it you can achieve anything.
What was your event highlight/low-point?
My event highlight was standing on the podium.
The lowest point for me was setting up my tent at the beginning and standing in the biggest freshest cow turd you've ever seen!
Steve has told us he will definitely be entering the Equinox24 again: "It's such a fun friendly event."
What is your top tip?
The biggest tip I can give anybody is believe in yourself.
We look forward to seeing if Steve can defend his title this year.