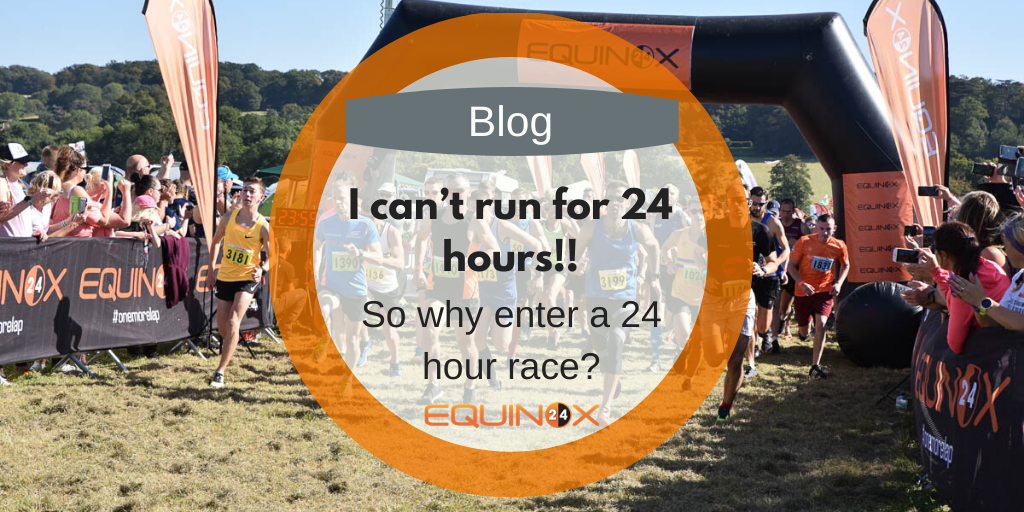 I can't run for 24 hours!! Are you crazy?! No that is not for me!
Here's the big misconception…
24 hr race entrants run for 24 hrs!
Or they're ultra-fit.
Some do and are …. BUT many aren't!
So why are 24 hour races so popular with 'regular' runners?
Quite simply, a 24 hour run is suitable for runners of any ability as you can compete however you choose and make the race your own. If you can walk one lap then you can join in.
And we will explain the different entry options for all running abilities below.
But mainly……
It's all about the EXPERIENCE.
People enter an event like this for the memories. It is more than just another race.
It is a weekend of running AND friendship, comradery, support, breaking barriers, making friends, achieving goals and feeling great.
So if you are an endurance or ultra runner – this event is perfect for you. You can run as much as you like for 24 hours – our record is 210KM at Equinox24!!! And you get to do it in a beautiful location with great marshals, medical support and facilities.
BUT
If you've only ever done a Parkrun or a 10k then you can still join in.
You could enter one of the single lap stand-alone races day or night races for a great experience (and get a great medal for each). But be warned – this is highly likely to make you want more and you'll be entering the main race next time!
OR
You could enter as part of a relay team.
Whatever the number of runners in your team you can run as much or as little as you like. The only rule is that you have no more than one team member on the course at any one time. So you can be ultra-competitive and aim for precisely planned and timed, slick handovers to try and squeeze as many laps for the team as possible, as quickly as possible into the 24 hours.
OR
You can take a more relaxed approach and opt to have a break between laps, to all take a break together to have food, a drink, some sleep!! You can spend as long off the course as you like and run when you feel like it.
You may have one team member who only wants to do one lap and another who wants to do five. This is fine – you all get the (really awesome) medal and t-shirt.
You just need 2-8 people and you can enter as a team.
You can even sign up as a solo without the plan to run multiple laps. You can take it as slow or as fast as you like – go at your own pace for as long as you like. No pressure, enjoy each lap and see how many you do! This is also a great option for those who want to run together (which you can't do if you are part of the same team)
Let's face it – 1 lap could be as much of a challenge or achievement to one person as 20 laps is to another.
We don't judge. You get the same encouragement and support, the same cheers from spectators and marshals whatever distance you run. We aim to create an atmosphere of inclusion, support and celebration for all our runners.
Even if you are not a runner and want to get involved in the weekend you can still join in by signing up to marshal or by being part of the support crew for a team or solo runner (making cups of tea and having food ready for tired and hungry runners is a very important job!).
Our live music, kids fun run, kids activities, event village, great facilities and supporter-friendly event layout make this a great weekend for all.
So all you need to decide is which category and which event is for you!
For any further questions about how the event works you can visit our website (www.solstice24run.co.uk or www.equinox24.co.uk) Race page, FAQ page and read testimonials form previous runners.
To enter Equinox24 click here.
To enter Solstice24 click here.
Happy running!