Entry and Cancellation Cover
See our entry specific entry FAQs on the Entry page.
Cancellation Insurance Cover
Cancellation Insurance Cover is provided by Beticketing/Assur-Connect and will refund you 80% of your race entry fee for approved cancellations of your entry resulting from unforeseeable and sudden cause. Protection can be added to any entry including team member entries on a member by member basis.
Importantly does NOT require evidence/proof to be submitted.  "The insurance contract is based on trust, there is therefore no request for any document(s) to release the reimbursement of the Insured Ticket. However, the reason for your cancellation will be systematically requested to trigger the request for reimbursement. The Insurer reserves the right to verify the reasons invoked by the Insured Party which led him to claim reimbursement of his Insured Ticket. In addition, when requesting reimbursement, the Insured will certify on his honour that he was not aware of any fact and/or circumstance at the time of taking out the insurance that caused the cancellation."
The cost is 11.5% the entry fee and will be displayed per entry in the final step before checkout – you can select to apply it to any entry in your shopping basket by checking the box. The whole claim process is managed online via your unique entry dashboard.
What will it Cover
Any unforeseeable and sudden cause making it impossible to participate in the insured event.
What does it not include:
As with all products it does not cover every scenario. It covers unforeseen circumstances that prevent you from attending the event – exclusions are fully outlined in their T&Cs
The main exclusions are:
Refund of tickets for which the insurance premium has not been paid;
Fraud and malicious acts;
The request for a refund of an insured ticket when the insured was aware of facts and/or circumstances such
that, at the time the insurance was purchased, he or she already knew that his or her ability to travel to the event
attached to the insured ticket was compromised.
Any Accident or illness that was first diagnosed, treated, relapsed, or hospitalized prior to the date of Accession
to the Contract.
The failure, for whatever reason, to present any of the documents required to collect the Guaranteed Ticket(s).
The direct and indirect consequences of all Epidemics, pandemics including event postponements resulting from
the same causes;
Any impossibility or restriction of movement imposed by international and/or local authorities ;
All health protection measures such as the containment of the population;
War, whether declared or not, it being specified that it is up to the Insured to prove that the loss results from an
act other than war;
Any ionizing radiation or radioactive contamination from any nuclear fuel and/or nuclear waste and/or from the
burning of nuclear fuel as well as the dirty bomb;
Use or threat of use of pathogenic or toxic biological or chemical substances, regardless of any other cause or
event occurring at the same time;
The bankruptcy, financial failure, insolvency or default of any person, firm, corporation, or entity;
Cybercrime;
THE MAIN RESTRICTIONS
A deductible of 20% is applied depending on what is mentioned in the Particular Conditions.
Where the ticket is purchased as part of a pack or team sporting Event, the cancellation of one ticket where it
is eligible for reimbursement may result in the cancellation of the tickets of the pack or other members of the
team.
If the Insured subsequently cancels or transfers his/her entry to another sporting event in the same Event, the
right to reimbursement disappears on transfer.
Please read carefully the documents here: https://claimticketing.assur-connect.com/pdf/CG-BETICKETING-2023-7097.7098-EN.pdf
How do I claim a Refund
A refund can be claimed through your entry dashboard (link is in your entry confirmation email) – go to the Beticketing section and click to start your claim. You simply need to submit your details including your IBAN account number and type your reason for being unable to attend and declare your reason is genuine.
Is there a time limit for the claim?
A request for a refund can be submitted up to 3 days after the start date of the booked event.
Charity Places
Yu will see the charity entry option on the Entrywide site. If you choose to take one of the charity places you pay a reduced entry fee (£45 SOLO, £30pp TEAM) and commit to raising a minimum of £250 for solo runners or £200 per team runner via the official Equinox24 Alzheimer's Just Giving campaign. The charity will be on hand to support your fundraising throughout.
You will need to raise at least half of this target by 1st August 2024 (or within 2 weeks of the event if you enter after 1st August). We will, in consultation with the charity, review the fundraising progress before entries close. If on 30th August the charity don't feel that you will meet the fundraising target by 2 weeks after the event, you will have the option to pay the difference to make the full entry fee for your place or your place may be cancelled.
By choosing to take a charity place you agree that the charity will be given your details and will contact you to offer support with your fundraising and be on hand to answer any questions but they will not use your details for marketing or pass them on to third parties.
You will set up your JustGiving page during the entry process. The charity will also be in touch soon after to give you info about fundraising ideas and offer fundraising support you should you need it.
Currently teams can only contain either charity team members or standard team members – there cannot be a mixture of both entry types. So if you want to run as a team for this great charity you will need to find at least one friend to run with who is willing to fundraise too. Teams can be 2-8 people. Alternatively email us and we can see if we can find a solution if you do require a mix.
You can only choose the charity place option to fundraise for Alzheimer's Research UK. If you wish to fundraise for a different charity you will need to pay the full price entry fee and arrange your own fundraising.
Please see our T&C page for full terms and conditions before signing up
10K races - more info
The 10K races follow the same 10k course as the 24 hour run but are timed and placed separately. Please see the race info page for course details.
The day 10K starts with the main 24 hour event at midday and the Night 10k has its own start at 8pm whilst the 24 hour event will be in progress. The night course is unlit and you must have a head torch or torch to be allowed to run. There is no cut off time for either event. Entrants will receive a medal when they finish which should be collected from race HQ on presentation of your race number.
The age limits are 18 years for the night run and 15 years for the day run.
Your race number with timing chips attached, visitor wristband and parking pass will be sent to you in the post before the event and must be brought with you to the event. If you forget your number or wristband you will be charged a replacement fee. If you order additional camping passes or spectator day passes with your entry these will be sent with your race number to your address.
If you wish to camp at the event, camping is charged at £10 per adult and £5 per child and allows you to camp Friday/Saturday and Sunday night. You can purchase through our entry page either at the time of entry or at a later date.
If you have spectators coming to watch who are not racing there is a parking fee of £3 per car. Each person will be issued a Day Visitor wristband and will be allowed to stay on site until 10:30pm that day. 
Entering 10k and 24hr categories
You can enter both the 10k events and the 24hr solo or team races. You can wear both your 24 race number/chip at the same time as your 10k race number/chip for that one lap only and count the lap for both events – however ONLY 1 TEAM CHIP/NUMBER CAN BE ON THE COURSE AT ANY ONE TIME so if more than one team member is competing in the 10k event as well, only one team member can count it as a team lap and only if no other team member is already on the course.
How do I change my details on the entry system?
Find your confirmation email and follow the link in the button to access your unique entry dashboard (NB you will only see ONE entry type on your dashboard – if you entered other categories or bought camping, these will be on their own entry dashboards and can be accessed via the relevant confirmation emails).
Team/Pair Runners – Your team creator will be able to login to their Team Captain dashboard to view and make changes to existing team members and add new team members. Details for login are in the captains confirmation email. Deadline for changes 31st August. Team members do not have access to make changes to the whole team but can edit their own details.
Solo runners/team captains/10k runners – You can access your unique entry dashboard via your confirmation email and change some details and make transfers. Deadline 31st August
Can I transfer my entry to another person?
Team Runners – your team creator can log in and add new team members or edit the details of an outgoing runner to replace them with a new runner until 31st August. To add another runner they can complete the form/pay for the new runner or they can send a link for the team member to complete their details and pay for themselves. Each team member must have the following details: Full Name, Gender, Date of birth, Email, Club, Emergency contact name and number, t shirt Size.
Team Creators – please email [email protected] regarding transfer of your captain's/creators entry.
Solo Runners/ 10k runners –
Need to transfer your solo or 10k place to another runner?
Firstly please check if you took out cancellation cover when you entered – this is the best way to obtain an 80% refund for your place if you can't attend for a qualifying reason – you can find this info in your entry dashboard via the link in your confirmation email.
If not and you still wish to transfer your place you can do so via your unique entry dashboard by entering the email address of the new runner in the transfer section They then receive an email taking them to the form to enter their details and pay in full for the race entry. This will automatically cancel your entry. We will then process your refund within 14 days minus a £10 transfer fee for solos and £5 transfer fee for 10k places.
Final date for completion of all transfers is 31st August.
Can I cancel or defer my entry?
Cancel
You can cancel your entry by emailing [email protected].
If you have a genuine reason for cancelling please check if you took out the Beticketing cancellation insurance cover and you can claim your 80% refund from your entry dashboard if it is within 72hrs of the event start. 
Refunds are only available within 14 days of booking. Booking fees are not refunded. Beticketing optional cancellation cover can be cancelled within 14 days of purchase IF the event was not within 30 days of the cover being purchased (contact them directly for cancellation).
Refund structure:
Withdrawal within 14 days of payment: Full refund of Race Entry fee (booking fees are not refundable).
After 14 days of payment:
If the Competitor took Cancellation Insurance cover at the time of entry via: Refunds in line with the Beticketing/Assur-connect Terms and Conditions and should be dealt with directly.
If Cancellation Insurance cover was not taken: no refunds are available. See below for options for deferral and transfer of entry with time limits.
Deferral
Deferral of your race entry to the following year's event to the same category is available until 6 weeks before the Event start date. Email [email protected] to complete this before the deadline.
You can also transfer your place to another runner. See the FAQ for details.
Please see our terms and conditions for information on withdrawals and refunds/fees. 
Can I change the category I am entered in?
Please email us if you wish to change category. It may be possible depending on availability of places and the category you originally entered.
How do I find out who has entered my team?
If you are a team captain you can do this online by logging into the Team Captain Dashboard (log in link in the confirmation email sent to you from our entry system when you signed up).
Team members please contact your team captain. Team members will receive an entry confirmation email when they are entered by their captain.
How do I join a team/add a team member?
If you are a team captain you can do this by logging into the Team Captain Dashboard (log in link in the confirmation email sent to you from our entry system when you signed up). Here you can add a team member yourself (complete all the details and pay for their place) or alternatively you can send an link to invite the runner to complete the form and pay for themselves to join your team. This link is in the confirmation email you were sent as captain email subject: Equinox24 – Team Captain Information. Click the green button to go to your Captain dashboard and you can view, add, edit teams and send the invitation link.
(NB – captains will have 2 similar emails – one for their captain dashboard, and one for their own team member place – make sure you have the correct one to access your team – if you need this resending please email us)
Team members please contact your team captain to either enter you or send you the invitation link. Team members will receive an entry confirmation email when they are entered by their captain.
Why does my team show as full? How can I add more members?
Maximum team size is 8 runners. If you have less than 8 runners in your team and the team captain needs to add more team members but can't or if a team member is getting an error message saying the team is full when they try to enter via an invitation link please follow the steps below. 
If you are a team captain you can solve this by logging into the Team Captain Dashboard (log in link in the confirmation email sent to you from our entry system when you signed up). Here you have a widget that says estimated team size – this size was chosen by you when you created the team but can be amended at any time before entries close. Edit this to your new estimated team size which can be up to 8 runners – this will allow more team members to enter. You can set it to any number up to 8 – it will show as team incomplete if your team isn't at the maximum capacity you have estimated but that won't matter – it's more of an indicator to captains and to us to allow them to check everyone has entered but won't effect your team entry in any way if it stays as incomplete.
Team members please contact your team captain to edit this if you are getting the message that the team is full when you try to enter via the invitation link. 
If we have entered a team ...will our category be changed accordingly?
Teams will be categorised by the number of people entered in your team when entries close on 31st August (ie 2 people Pair, 3-5 people Small Team, 6-8 people Large Team).
If you have entered team members who can no longer run in the event, please either transfer or cancel their places before 31st August to ensure your team is in the correct category on race day. You can remove team members at the event but your race numbers etc may display the incorrect category and you will need to complete a form at race registration.
If you wish to add additional members this can be done via the team captain's dashboard on our online entry system, or via the link sent by the team captain, before entries close on 31st August (as long as there is availability and capacity in the team).
It is VERY important to check before the entry system closes on 31st August, 6pm that your team is correct, all members are entered and all details are complete (eg tshirt sizes, names).
Can we make changes to our team at the event?
Yes however it is best to do this online before 31st August as it is free and to help ensure details for printed numbers and tshirts are correct. After this time the only way to make changes is at the event and there is a £10 admin fee for this for each change made.
If it is simply withdrawals, this can be done by filling in a change of details form and handing it in at race HQ. There is no fee for this, however your race numbers etc may display the wrong race category.
To make changes at the event you will need to complete a form at race registration and pay the fee.  We cannot guarantee that these details will be changed on our timing system/race results or that you preferred t-shirt size will be available. We very strongly advise you to make any amendments online before the deadline to avoid additional fees, get your choice of event tshirt size and to ensure your details are accurate on the system on race day. If there are still spaces you may be able to add a team member at the event. We will add details for this nearer the event if places are still available.
Can I enter at the event?
If we still have availability you can enter on the day. Entries at the event will have an additional fee of £10 and we cannot guarantee an event t-shirt/goody bag/medal. We suggest you email before coming to check if there will be any places available on the day. To enter on the day come to the entry queries desk with your payment. Please be aware that we cannot guarantee a place if the event is sold out.
What is the age limit for the 24hr and 10k races?
The age limit for the 24 hour race is 18 years for solo, pair and team runners. For the Day 10k event it is 15 years. For the Night 10k event it is 18 years. For all categories it is the age of the runner on the day of the event.
Will any information be sent before the race?
You will collect everything at the event from Race registration. Digital passes for entry and camping will be sent in the week of the event and will need to be shown for entry to the site (see Camping wristbands/passes FAQ for full details). All race information will be sent by email. Team relay bands and event t-shirts for 24hr runners will also be collected at the event.
We will send a race brochure out by email before the event and in there will be maps of the route and site, up to date information about the rules, timings, stalls, catering and facilities. Please look out for this in your inbox in the month prior to the event (and check you junk folder) and ensure your email address is correct on our entry system. We will also email with important updates and information at various times before the event. If you are not receiving our emails please check your junk folder or contact us as you may have entered an incorrect email address when you entered.
What are the event times?
Times will be confirmed in the Race Brochure sent out before the event, usually at the start of September. However, we anticipate the timings to be as follows:
Campsite open Friday from midday-10pm, then Saturday 7am-10am
Live music Friday 8pm
Beer run Friday 9pm
Kids fun run Saturday 11am
24hr race start midday Saturday-midday Sunday
Day 10k Midday Saturday
Night 10k 8pm Saturday
Arrival & Camping Wristbands/passes
Everyone at the event will required to wear a wristband for the weekend. Runners in the 24hr race (solos and team members) get their camping included with their race entry and their digital pass will be emailed before the event. 10k runners do not get a camping wristband included in their entry however they can purchase one via our entry system.  Anyone else who wants to camp at Equinox24 for either Friday/Saturday and/or Sunday night, will need to purchase a camping wristband, including support crew, those entered into the kids fun run and people staying in our bell tents.
Camping passes for spectators can be bought online via our entry system either with a race entry or separately. Visit our ENTER page to purchase. Camping passes allow camping and use of the facilities from Friday-Monday and are priced at £10 per adult (16+) and £5 per child, under 4's are free.
All runners will be sent an email the week of the event containing a QR code which will be scanned to allow you access to the main event field and camping. Camping wristbands will be handed out at this point which must be worn all weekend by anyone camping at Equinox24.
For runners in the 24hr event (teams and solos): Solos and each team members will each receive one email to the email address put on your entry form. This email will contain a QR code that includes your race entry and camping pass. If you purchased extra camping passes for spectators they will all be included on this single QR code. If you purchased additional race entries and/or extra camping passes with a different email address/account you will get a QR code sent to the email address used for that purchase. See below if you are travelling separately to spectators you purchased passes for.
For 10k runners: You will receive an email with a QR code that will allow entry to the site and give you your car parking pass. (10k runners do not get camping included with their entry but can purchase camping passes if they wish to camp). If you purchased camping passes they will all be included on this QR code. If you purchased additional race entries and/or extra camping passes with a different email address/account you will get a QR code sent to the email address used for that purchase. See below if you are travelling separately to spectators you purchased passes for.
For Spectators: If you have purchased your own spectator passes you will get an email with QR code for these – one QR code for all passes bought from one account. If they were bought for you by another person, that person will receive the QR code email which they can forward to you or send a screenshot of the QR code for you to show at the event. It can be used by multiple people as we will log how many people it has been used for each time it is scanned.
Travelling Separately? If multiple camping passes were purchased by one person and you are not all travelling in the same vehicle, please forward the email or QR code image to people not travelling with you as the QR code can be used more than once and they cannot enter site without it. As each group checks in with the QR code, we will log how many people have checked in and then it can be used by the remaining people up to the number of passes purchased. So for example if you bought a pass for 4 adults and they come in 2 separate cars, the first group will show the QR code and we will log how many have checked in. The next group will show the QR code and it will show how many passes are remaining and we can check them in. Once the number of people has been reached the QR code will not allow any further people to use it.
You can show the email, a saved image, screenshot or a print out of the QR code. To speed up entry, we suggest you open your email before arriving and take a screenshot or save the QR code as an image in case of any issues with your emails/mobile data on the day. 
For Day Visitors – If you are not entered into the adults events and you are not camping you can get a free day visitor wristband which allows you to stay on site until 10pm each day. Day visitors will need to purchase a parking pass which is £3 per vehicle and is paid before entering the car park.
NB if you used different email addresses for different orders (entries or camping passes) then you will get emails/QR codes sent to each email address you used with the QR code for the items you purchased with each respective account.
When can I arrive on site?
PROVISIONAL – Please check the race information sent out by email before the race for the most up to date information.
Entry to the site is planned to be from Midday on the Friday of the event weekend. The main camping field is open from Friday 12pm-10pm and Saturday 7am-10am. After this time you can access the ORANGE camping area and the car park (or access the main camping field on foot).
You must show your digital pass which will be emailed to you before the event to gain entry to the camping field – these are sent before the event for entered runners and to those who purchased camping passes online. Day visitors without a digital pass can get a Day Visitor band on arrival for entry until 10pm each day and will need to pay £3 per car for parking. If they wish to camp they must buy a camping pass on our site by 15th Sept. 
Entry to the main camping field (General camping/solo camping/caravans/campervans) will close at 10am Saturday morning. Anyone arriving after this time will be directed to camp in the Orange Mixed Camping area in the field adjacent to the main camping field, opposite the car park. You will still have access on foot to the main camping field and access to all facilities. This is to ensure that the main camping field is ready in time for the running events starting and to speed up entry for those arriving on Saturday morning.
Where are the quiet areas of the camp site?
Equinox24 is a 24 hour running event and so there will be people talking and a level of noise throughout the Saturday night in all areas of the campsite. If you want a quieter spot do not camp near to the run course or near the main race village/start area as these are the noisiest areas. The ORANGE area is the quietest in terms of noise from the race route/race HQ however there will be people camped here who are racing so as with all areas of the site there will be noise throughout the night on Saturday night as people race. We ask people to be respectful and keep noise overnight to a lower level, however this is a running event and the running takes priority. Therefore there will be team members swapping, alarm clocks, people supporting, event staff/vehicles working, first aid etc going on throughout the night on Saturday – if you want a full quiet night's sleep this isn't the place!
On Friday night we ask you to observe quiet time from 11pm until 7am. This means groups should not be socialising at their tents after 11pm.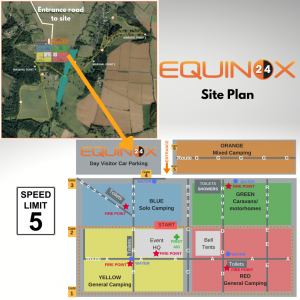 Where and when do I register?
Race Registration will be open Friday 4pm-7.30pm, Saturday 8am-11am and Saturday 5.30pm-7.30pm for Night 10k runners. 24hr runners will need to collect their finisher tshirts at the event.
You will be able collect tshirts on Friday 4pm-7:30pm and on Saturday morning before 11am. Please see the race information email for most up to date info and times.
Can I reserve a camping spot?
We operate a first come, first served policy and we do not reserve spots for any campers or caravans. If you wish to reserve spaces for the rest of your team we do allow this but ask you to please be reasonable with the area you reserve. We may ask you to reduce the area you reserve if it is deemed to be unreasonable for the number of tents you are expecting. We also ask that you do not park cars along the race route to allow as many people as possible to pitch their tents in this popular area. Caravans are only permitted in the designated caravan area. Cars here should be parked behind the tents. You can book a bell tent to be sure of a good spot. These will be pitched in one area near the race HQ. Full info on the Bell Tent page.
What facilities are on site?
Onsite will be toilets, chemical toilet disposal point (Elson tank), hot showers, hand wash stations, mains water taps, food and drink stalls, bar, massage, First Aid, trade stalls (see race information booklet for full details). There are no electric hook ups.
Can I camp on Sunday night?
Yes. Please note there will be limited facilities on Sunday night (no catering, retailers, showers etc). There will be toilet facilities.
Are cars allowed by tents on the camping field?
Yes 1 vehicle per tent is allowed on the camping field unless the field is very wet, in which case we will ask for cars to be left in the car park area. You will be notified by email or at the gate if this is the case. Please note, in the general camping area cars cannot enter or exit the field after 10am on the Saturday until the race finishes at midday on the Sunday. Cars wishing to exit the field before the end of the event, or those arriving after 10am Saturday will be asked to park in the car park and walk onto the field. We ask you to drive with extreme caution on the camping fields at all times and not to drive at all on the field after 10am Saturday.
Are dogs allowed?
Dogs are allowed on site but must be kept on a lead at all times and MUST be cleared up after. Dogs are not allowed on the run course or in the Bell Tents. 
Are caravans/campervans allowed?
Yes, there will be a designated area for caravans and motorhomes. Small campervans (no bigger than VW T5 size) are allowed in the general camping areas. There are no electric hook ups. Chemical toilet emptying is situated in a dedicated tank near the showers. Tents will be allowed to camp alongside caravans/campervans in their area should they wish. Caravans MUST stay in the designated area. No Petrol generators. Small diesel generators are acceptable however for the comfort of other people on the campsite use sparingly, they are not allowed between the hours of 10pm and 9am. (Please note: there will be generators running to power the onsite facilities for the duration of the event so please avoid these areas if you don't want to hear them).
Please note – the only area to pitch a caravan/campervan is on the grassy field – there is no hard-standing ground. If the ground is very wet you may have difficulty getting off the field. Please look at the weather forecast before the event and make a judgement. We will do our best to inform you of any expected issues in the lead up to the event.
Are generators allowed?
No Petrol generators. Small diesel generators are acceptable however for the comfort of other people on the campsite use sparingly, they are not allowed between the hours of 10pm and 9am. (Please note: there will be generators running to power the onsite facilities for the duration of the event so please avoid these areas if you don't want to hear them).
What do I do with my rubbish?
There will be large skips for campsite rubbish near the entrance to the main field and we ask you to ensure that you rubbish is put in these before you leave or you take it home with you. Please do not leave rubbish of any kind on the field; livestock will be back in the fields after the event. Please bring bin bags. We would very much appreciate your assistance in removing your own litter and waste from the site. Thank you.
Is there anywhere for Solos to leave food and drink?
There will be a table on the run course just after the start line for solo runners to leave supplies if they wish (left at your own risk).
Can I have a BBQ/campfire?
BBQ AND FIRE POLICY – PLEASE READ.
This is subject to normal weather conditions. If the grass is very dry no fires/BBQs will be allowed die to risk of grass fires.
This will be strictly enforced so please ensure you read carefully and abide by these rules.
These rules apply to all forms of barbecues, open fires, fire pits, chimeneas or any form of open flame (except gas camping stoves). We will refer to all these as 'fires' in these rules.
ALL people in your campsite must be made aware of these rules – we advise that you print out a copy for your camp.
All fires must be at least 3m away from any tents/flammable materials.
All fires must be raised off the ground so that they don't scorch the grass. Please bear this in mind with barbecues in particular. No open fires directly on the ground – they must be in some form of appropriate vessel.
There must be at least 2 full buckets of water in the immediate vicinity of each individual fire in case of emergency.
The fire must not be left unattended at any time. This means there must be at least one competent adult (18 years or over) physically present/awake outside of the tent watching the fire at all times. Being inside the tent or asleep does not count. If this is not possible the fire must be extinguished.
NO accelerants must be used on the fire in any circumstance either to light it or at any point used as fuel. This includes petrol, lighter fluid, diesel etc
There must be no accelerants in the campsite area if there is a fire lit.
Fires must not be lit along the perimeter of the run course as smoke directly on the course is a hindrance for our runners. Fires must be at least 10 m away from the course perimeter. If the smoke from your fire is deemed by us to be disruptive to runners we will ask for it to be extinguished wherever it is situated so we advise you to consider this when siting your camp/tent.
The organisers or their representatives hold the right to ask for any fire to be either moved or extinguished if they see fit for any reason of safety or in the interest of the runners or other spectators.
Do you provide food and drink for runners?
There is drinking water available at the finish line and at the water point approximately half way around the lap. If you require more water than this on your lap you must carry it. We do not provide food or nutrition for runners and you must ensure that you are able to cater for yourself.
Please take note of the weather conditions and how long you expect your 10k lap to take and ensure you have enough water/nutrition with you to meet your needs.
There will be a range of caterers open throughout the entire race with hot food and drink available to purchase.
Can I volunteer at the event?
Yes! We welcome volunteers and they form a very important part of our event running so smoothly. You can sign up online and choose both the job you wish to do and the time slot. Volunteers get a free meal per slot and a crew tshirt as a thank you! Minimum age is 16 years.
Sign up here
from August.
How do I get my medal/tshirt?
All 24hr event runners get a medal if they have done at least one lap. Please come to Race HQ when you are finished to show your race number for your medal (if you finish early or withdraw please remember to collect your medal – we are open all the way through the race and we cannot post medals after the event). 24 hr runners must collect tshirts after registering. Only one team member needs to collect tshirts for the whole team. They will be given a print out with each members tshirt size on.
10K runners, please collect your medal after the event from Race HQ. There are no goody bags/tshirts for 10k runners.
How do we enter the Kids Fun Run?
Please visit our
fun run page
for full details and to enter.
Where can I find out more information about the event (rules, camping, facilities, itinerary)?
Check our emails in the run up to the event.
You can get the event app. Not available in app stores – simply click this link from your phone and follow the on screen instructions to save it to you home screen. Alternatively equinox24.beezer.com on your phone's internet browser. Don't forget to turn on notifications.
You can find full information for the event in the Event Brochure. This will be available to download on our website and a link emailed to all team captains and solos prior to the event. It is usually available in early September. The previous year's brochure will be available until the new one is released (see below) which will give you an overview of details but please refer to the most recent brochure when available to be sure you are updated with any changes.
Where can I find my event photos?
We have a team of photographers on site throughout the event who will be taking photos. You can download social media sized images for FREE and you can purchase other sizes files and prints.
Go to https://mickhallphotos.thesearchfactory.com/search/equinox24?library=events and you can then register to download for this year's gallery and be notified when it opens. Your photos will be tagged with your race number when possible and also face recognition.
To download our 'web app' visit this page on your phone, click the button here and follow the instructions to add to your homepage. (not available in app stores)
In the app find a schedule of events, live results, race rules, site maps, info and more. Perfect for runners and supporters to use at the event and beforehand.