SOLOS AT EQUINOX24
Equinox24 can be run as a solo runner meaning you run your own race. Running in this category means you can run as much as you like within the 24 hours to your own schedule. You may want to run for the whole event or you may want to run or walk just a small number of laps spread out over the event. Any way you wish to race is fine – just make sure you complete the minimum of one lap to receive your medal. Our solos have in the past ranged from age 18 to in their 80s and there is a wide range of abilities from experienced ultra runners to first timers. The course record is 21 laps and we have many solos who are happy to complete just one or two laps and soak up the atmosphere on the course and in camp. We hear time and again that running as solo guarantees you great support from fellow runners and also from supporters in the camp.
Some people enter Equinox24 as a solo runner for a challenge and to test their own limits of endurance. The course record is an impressive 21 laps (210km) and these record breaking runners often take no or very few short breaks, they just keep going! This is a huge challenge and requires a lot of preparation but Equinox24 can provide the perfect place to do it.
As well as your medal we also award pin badges for solo runners who rack up some impressive distances. 10 laps earns you a bronze pin, 15 silver and 20 gold. These milestone rewards serve as great motivation to many runners who aspire to them. We also have many runner who use the event as a fundraiser and even have people running in costume, carrying a tuble dryer or backpacks etc to increase the level of challenge. You must make sure that you are fit and well to push yourself at this event but we do have the support of an experienced first aid team and excellent marshals who look after you throughout the event.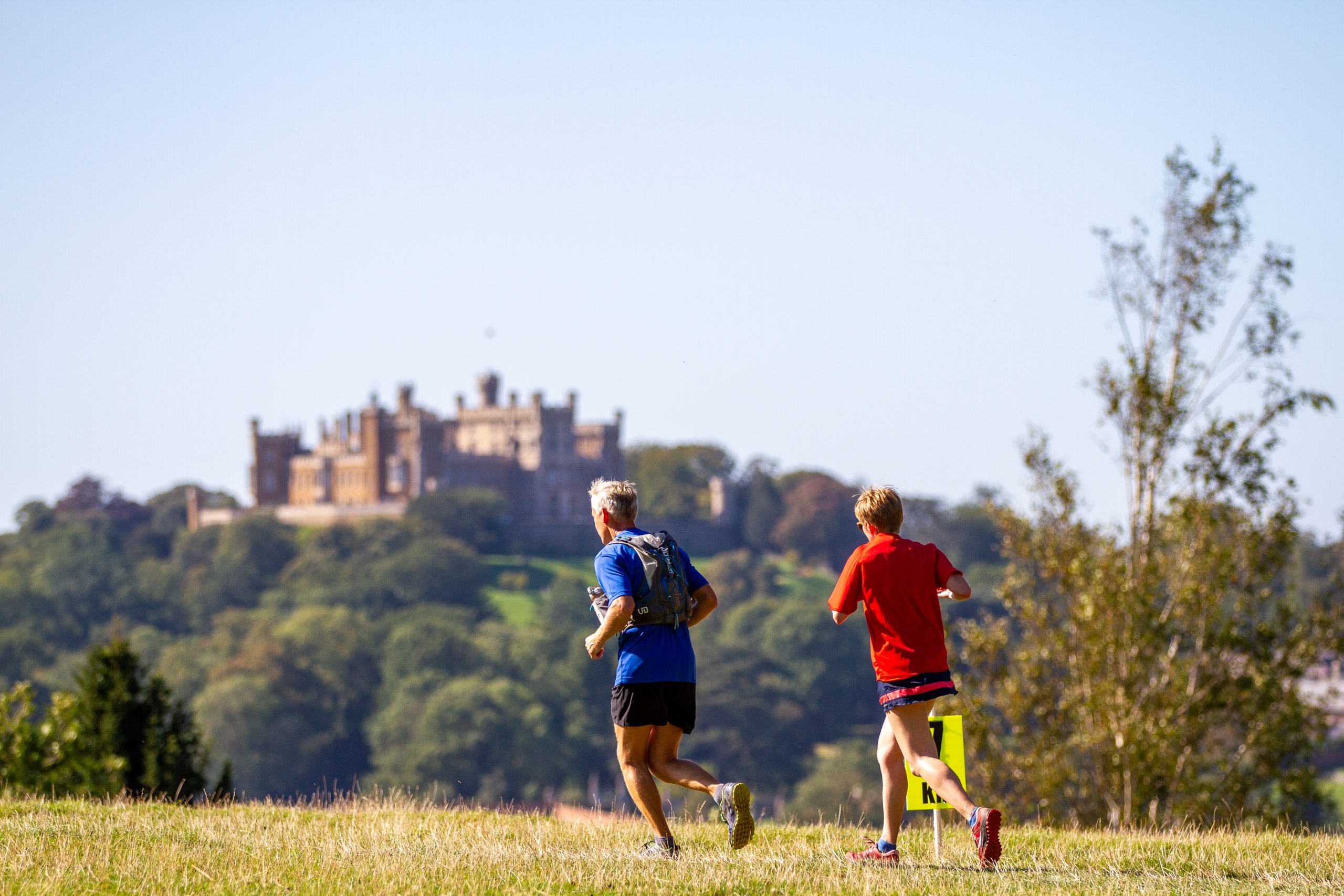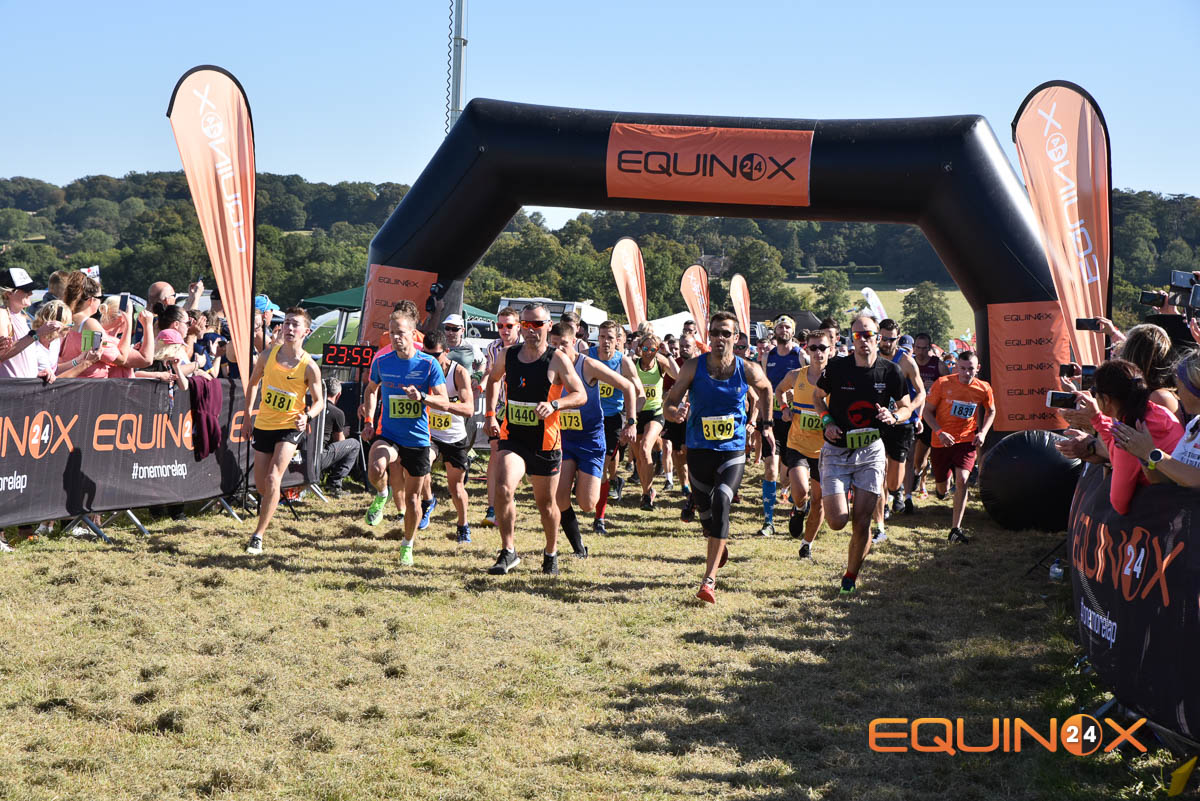 THE RACE
Most solo runners choose to start with the mass start at midday Saturday but you can start later if you wish. From that point on you run your race your way. Make sure you wear your race number for each lap as numbers contain the timing chips. You can choose to end the race at any point but if you continue for the full 24 hours and cross the start timing mat by midday Sunday then you can complete that lap for it to count towards your total. The most competitive solos work really hard to make sure they get this bonus #onemorelap as it is often the decider in the results. You can find updates of your results including lap times and your category standing via the link in our app or at the timing desk near the transition area.
At the end of your race you can then collect your medal and any pin badges you may have earned – a great photo moment!
LAPS AND BREAKS
It is ok to have time off the course. Each solo is required to complete at least one lap but there are no other rules. So if you want to have a sleep, catch up with friends, have a massage or take some time to decide if you want to continue, this is fine. We ask that you run complete laps. Do not exit mid course without informing a marshal or HQ as we will be out searching for you. Also you must start each lap via the course entrance making sure to cross the start timing mat just after you enter, otherwise your lap won't count. When you are finished come and let us know at HQ and collect your medal – this is especially important if you withdraw before Sunday morning.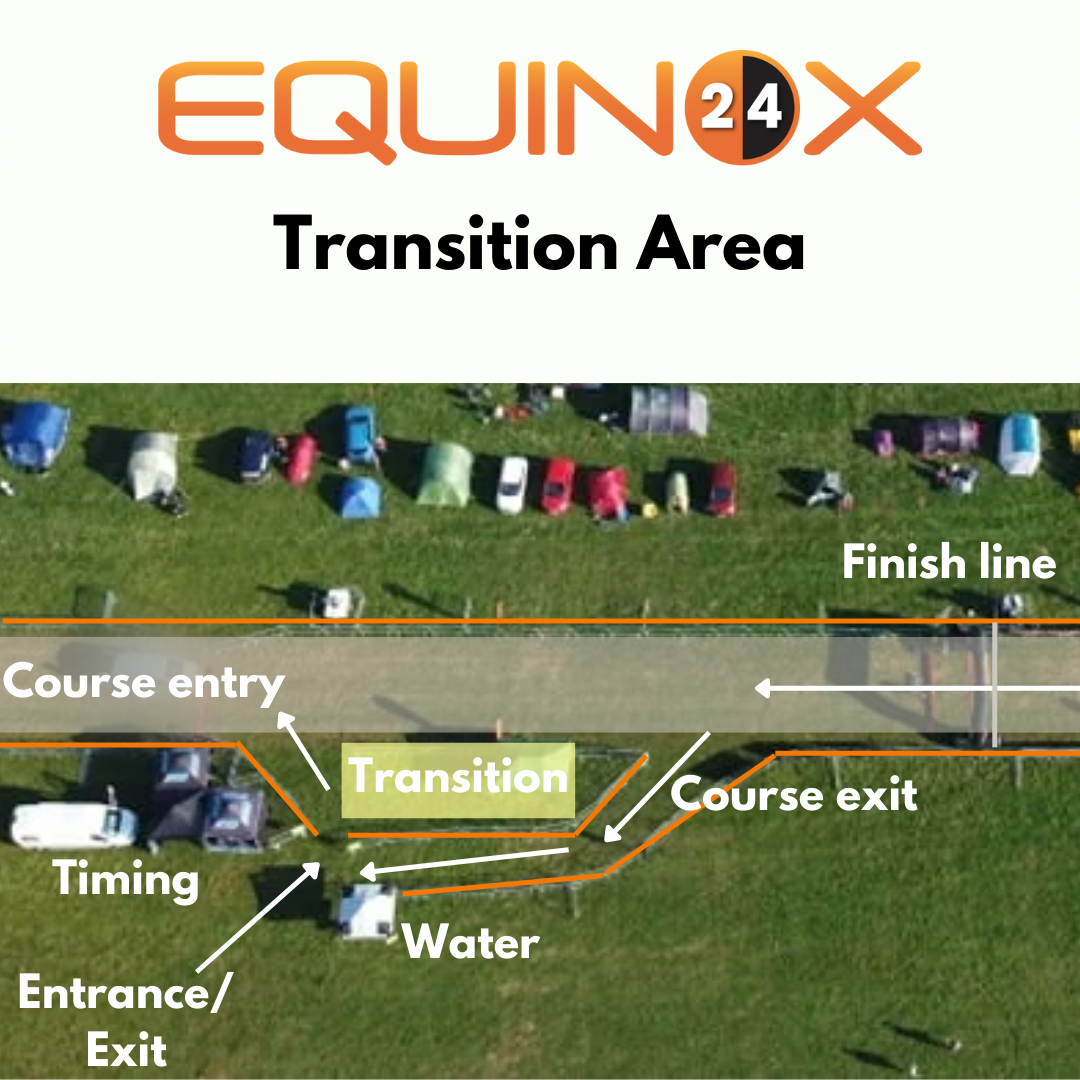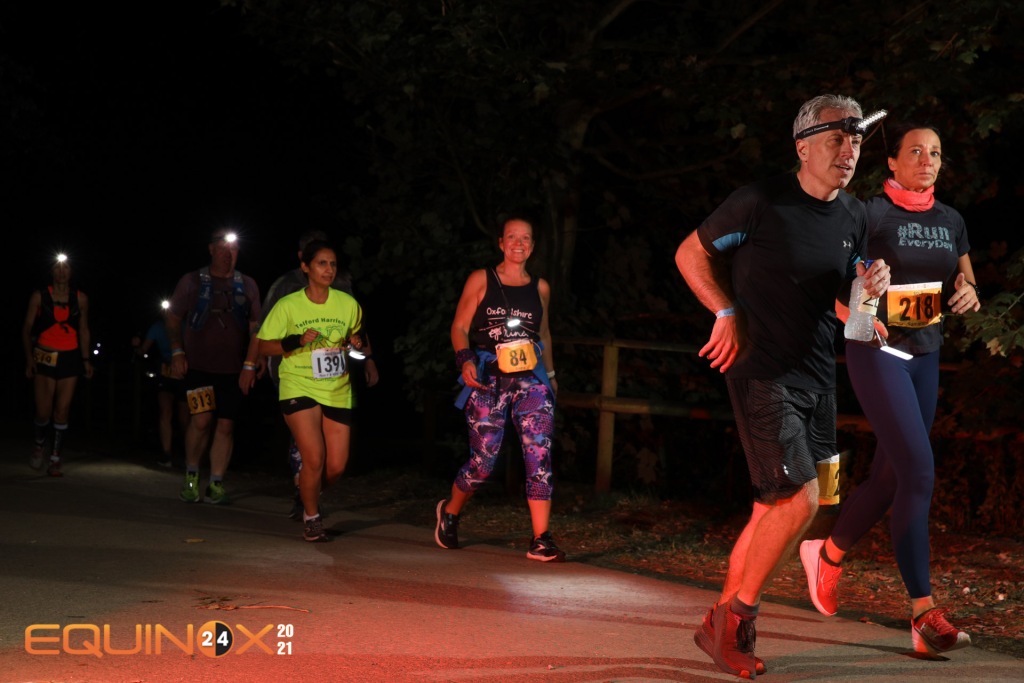 SUPPORT
Equinox24 is a self-supported event in that you are responsible for your own food and nutrition at the event. Many people like to bring supporters to help them with food etc but we also have many people come alone. You should come with a plan for your food and nutrition during the event and make sure you have plenty of options as often you don't know what your body will need or tolerate until the race. There are several great food vendors at the event and there will be food available overnight (though not all vendors stay open all night – you will always be able to get some hot food). There are water points at the start line and at the halfway point. If you feel you will need additional water you will need to carry it with you. There is a solo tent just after the start area where solo runner can leave a bag with supplies in to grab without leaving the course, or you can return to your camp (you are never more than 2-3 mins walk away from the start area wherever you camp).
10K RACES FOR SOLOS
Fancy some extra bling? If you are running as a solo you are permitted to also run in the Day and Night 10k events (enter separately) if you follow certain guidelines. You can wear both your solo number and 10k number at one time to count the lap for both events – race numbers have timing chips attached. You must remove the 10k number after that specific lap. The Day 10k starts at midday Saturday with the main race start and the Night 10k at 8pm Saturday.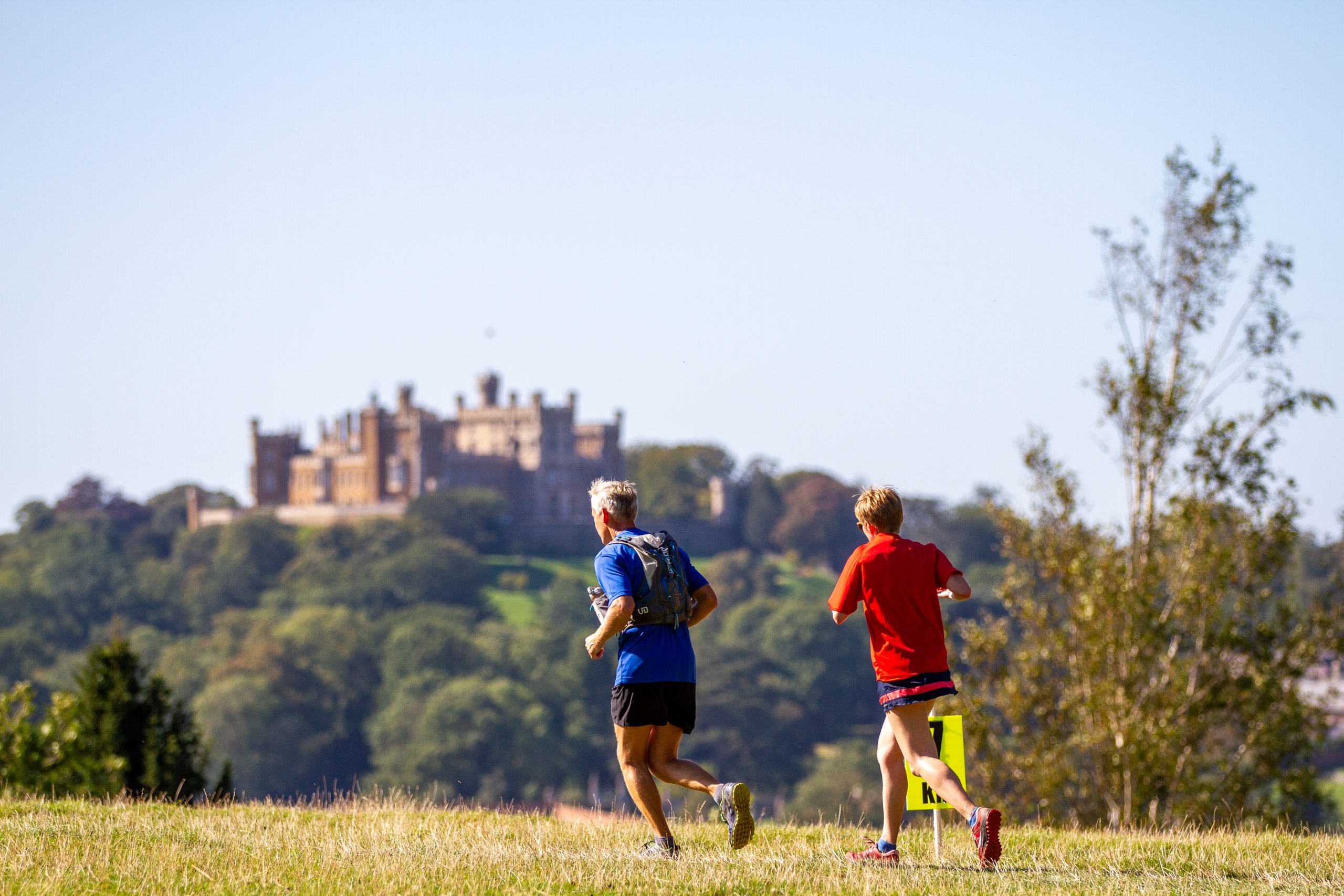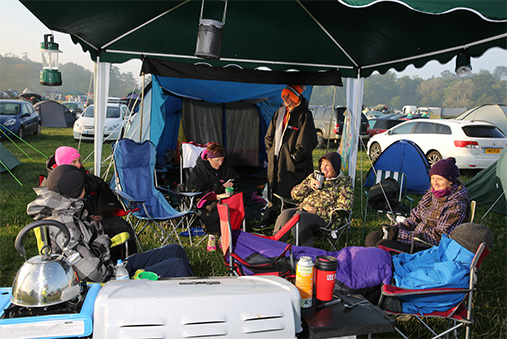 CAMPING FOR SOLOS
There is one quarter of the field reserved for solo runners but you are free to camp in any area in a spot to suit you. If you are camping with a larger group who are not running solo eg your running club, then one of the other areas may be better for you. Camping spots are first come first served but we do allow people to pitch tents for friends or team mates arriving later or reserve a modest amount of space for their group (being mindful of other runners). You are allowed 1 vehicle per tent on the field and we ask for cars not to be immediately next to the course – save this for tents to help support the runners as they pass. Vehicle access to the main camping field closes from 10am Saturday morning until the race finishes on Sunday, so should you need to arrive or leave between these times you will need to leave your vehicle in the car park or camp in the Orange area where you can exit/enter at any time (and it is still only 2-3 mins walk away from the start line and close to showers and toilets). We also have bell tent hire available if you would prefer to arrive to your tent ready set up and not have to pack it away. They can be set up in the solo area on request.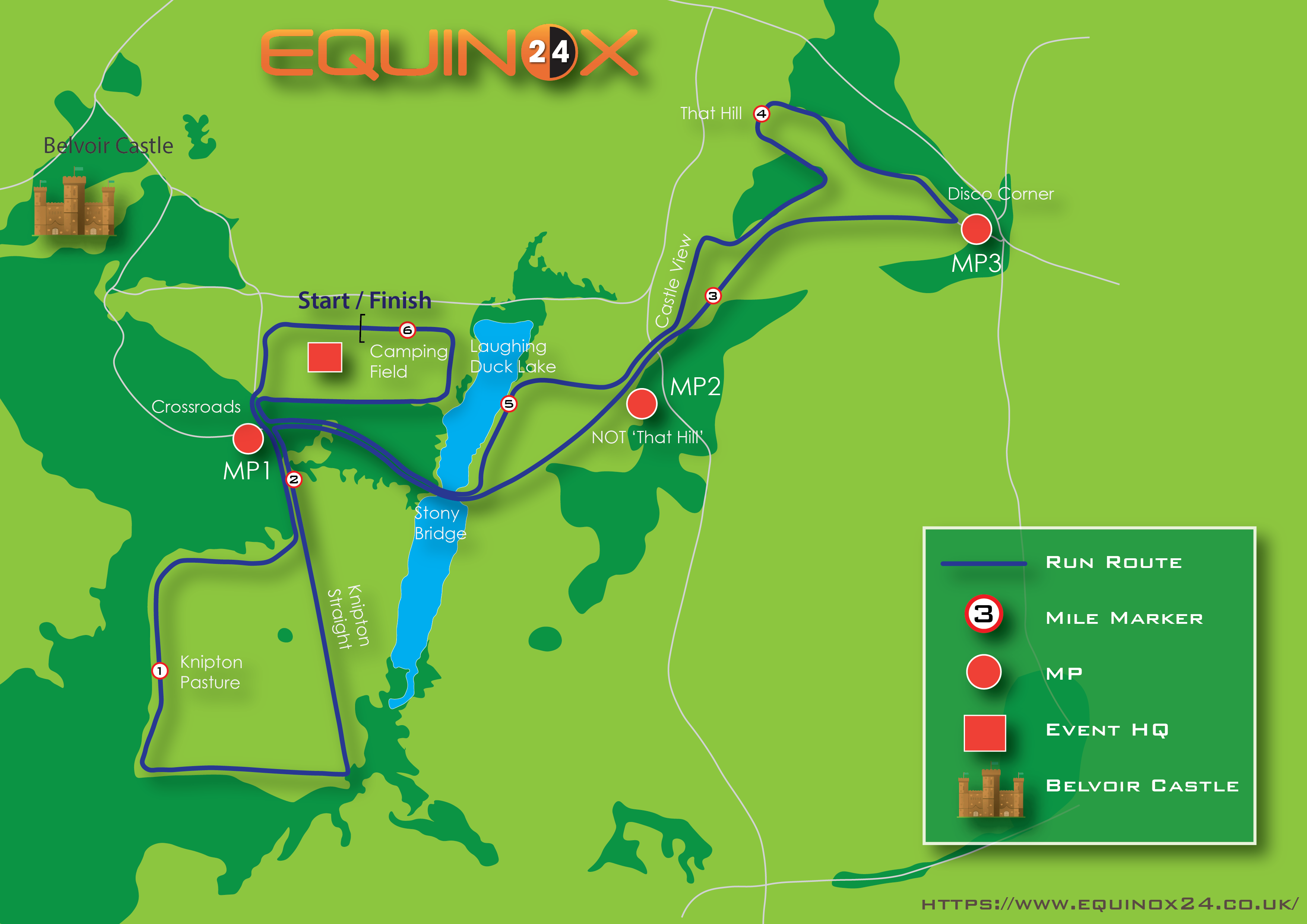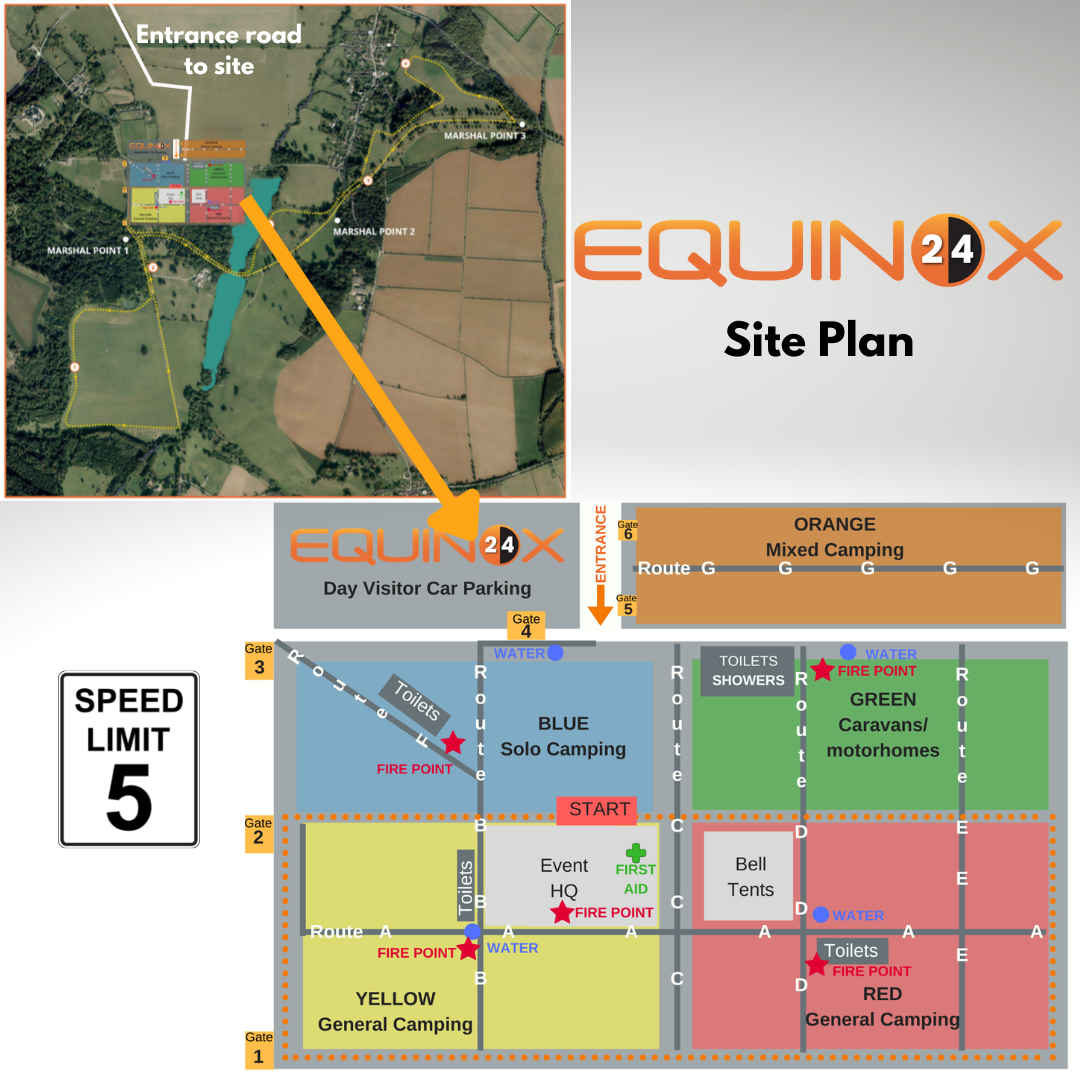 Visit our FAQ page for more info on topics including race entry, camping, spectating