THE RACE
21ST – 22ND SEPTEMBER 2019

WHAT IS EQUINOX24?
Equinox24 is a 24 hour mixed terrain race around a 10k loop against the clock. There is also a daytime 10k race and a night 10k race. The event is open to all abilities: whether entering to run solo or in a team of 2-8, whether you aim to win or just to take part, this race will be exhilarating, testing and rewarding with a great atmosphere. The 10k route will take you around the picturesque Belvoir Castle Estate.
There is on site camping from Friday to Monday for competitors and spectators with toilets, hot showers, food and trade stalls. Equinox24 is renowned for its welcoming, supportive and friendly atmosphere and is a great experience for runners and supporters alike.
You'll find the Equinox24 physically challenging and mentally tough but an amazing experience not to be missed.
A weekend you will talk about for years, especially with those who share the weekend with you.
THE COURSE
The 10km loop is within the stunning grounds of the Belvoir Castle Estate.
Belvoir Castle, standing high on a hill overlooking 1,600 acres of woodland, is a breathtaking backdrop for this event.
The course, which sits partly in Leicestershire and partly in Lincolnshire, has varied terrain so you'll find yourself running past lakes, through wooded areas, up and down hills and round open fields. Whether you're running through the night with a head torch or whilst the sun rises, there's always a change of scenery for you to admire.
There are some sections of tarmac – but usually the option of large grass verges if you prefer. There is one long steep hill leading up to the halfway/waterpoint and a steep but short downhill off road section. The off road sections are over fields and around woodland and can be uneven ground to keep you on your toes. The final section takes you around the camping field where you will enjoy the support of fellow runners and spectators. The variety of the route will keep you alert and interested. This course has excellent capacity and no single file sections to make your running experience the best that it can be.
You are treated to countless breathtaking views on the course, from the castle up on the hill (which looks magnificent through the night when it is lit up), the mist rolling over the lower fields, the sun reflecting off the lakes, the surrounding villages – memories that will stick with you.
RUN SOLO, PAIR OR TEAM
PLUS DAY 10K AND NIGHT 10K RACES
21ST – 22ND SEPTEMBER 2019
Belvoir Castle – Leicestershire

THE RULES
The aim of the race is to complete as many laps as you can (or your team can) in 24 hours.
The race begins with a mass start at midday Saturday and ends midday Sunday. There are very few constraints on how you run so you can customize the race to suit you. We ask you to complete whole laps and, if racing in a team, to never have more than one team member on the course at any one time. Other than that you race how you wish. This makes our race accessible to all abilities – from solo runners who complete 21 laps to team runners who complete 1.
There is no minimum requirement of laps or time spent on the course and no time limit on laps. You can run or walk.
This means that you can race solo and keep running for 24 hours, or if you prefer, take breaks (long or short). You can complete as many laps as you wish.
If you are in a team there is no set order of runners or any requirement to run an equal number laps each. There is no requirement for a team member to be on course at all times. So you can take it in turn to run single laps, run double laps, run in any order, take breaks. You can have one team member who runs one lap and another who runs 5 – what ever suits you and your team. A wrist band is used as a relay baton and passed between team members as they finish/start their laps.
If you have crossed the start line before midday on the Sunday, you can complete the lap you are on.
There is a fantastic atmosphere at this race where everyone is chasing their own unique goals and both runner and spectators are so supportive.
CAMPING
Camping is available for competitors and spectators on Friday, Saturday and Sunday night.
There are great facilities on site including hot showers, toilets, water points, food and drink stalls, bar, trade stalls, merchandise shop, massage, central marquee and children's activities. There will be a nominal fee for spectator camping in 2019.
There are areas for caravans/campervans (although if you wish to pitch up a tent next to friends in the caravan area this is fine) and also an area for solo runners to allow them easy access to their tents from the course. The camping in all areas is first come, first served in terms of your pitch.
The atmosphere and location will make this more than just a race and more than just camping. You will go to sleep with the castle illuminated on the hill and wake up to the most glorious sunrise in a simply beautiful location. You cannot fail to be wowed and inspired by your surroundings at Equinox24.
Bell tent hire is also available – see below.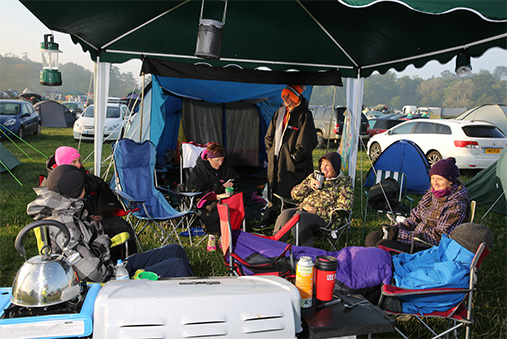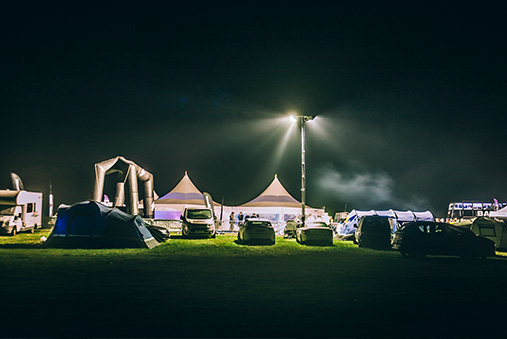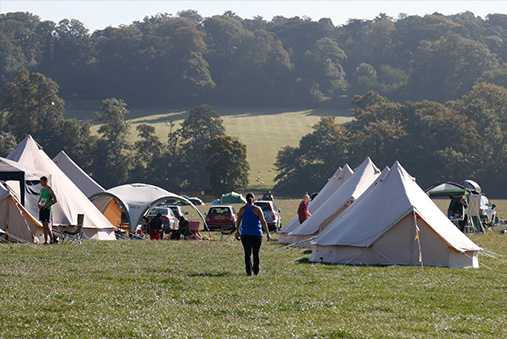 BELL TENT HIRE
If you don't fancy pitching up and taking down your own tent and want to be assured of a great spot on the camping field, we can offer camping in fantastic bell tents which will be set up ready for you to lay out your sleeping bag and start enjoying your weekend.
Each bell tent will be set up with memory foam mattresses, rugs, fairy lights, cushions and throws and a small table/crate and lamp. All you will need to bring is your sleeping bag, pillow and any cooking equipment you may need for the weekend. You may also wish to bring camping chairs.
They are available in 3 sizes suitable for up to 4, 6 or 8 people. You will need to book in advance by September 1st depending on availability, and the price is for 3 nights camping (Friday, Saturday and Sunday night): 4 man tent £250, 6 man tent £340, 8 man tent £430.
At full occupancy this works out at around or less than £20pppn.
You can choose to pay in full at the time of booking or pay in two installments, 8 weeks apart (option available until 7th July). Please see T&Cs before booking. No dogs or smoking allowed in the bell tents.
To download our 'web app' visit this page on your phone, click the icon here and follow the instructions to add to your homepage. (not available in app stores)
In the app find a schedule of events, live results, race rules, site maps, info and more. Perfect for runners and supporters to use at the event and beforehand.